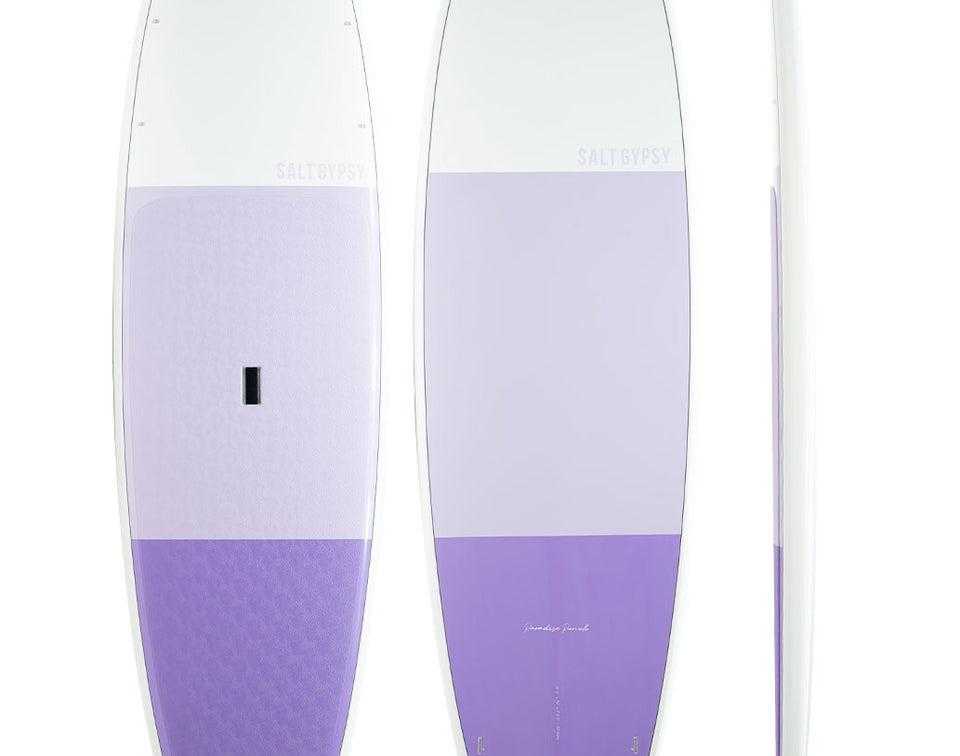 Paradise Punch MX - Lavender
Description

New Colourway for 2023 ~ Lavender

This is an All-round Stand Up Paddleboard (SUP) that does it all. Functionally suited to flat water cruising, but it's also versatile enough to take in the surf. This SUP is designed to be super stable, making it easy for female paddlers to jump to their feet and start paddling.

Features include a comfortable cavity handle for convenient transportation to and from the water. Deck traction with back foot kick to prevent slipping off the board. Additional nose plugs for creating a forward storage zone, plus a bonus nose plug for mounting a GoPro.
Australian Surfboard Freight Info

This item is shipped direct to your door by our partners at Global Surf Industries. Flat rate shipping on all surfboard orders:

Surfboard under 8'5"
Sydney Metro $25 AUD
Rest of NSW/ACT $45 AUD
VIC, SA, QLD $59 AUD
WA, NT, TAS $85 AUD

Surfboard 8'6" & over
Sydney Metro $25 AUD
Rest of NSW/ACT $79 AUD
VIC, SA, QLD $110 AUD
WA, NT, TAS $165 AUD
Packaging

Packed in a 100% stretch cotton dust jacket inserted inside cardboard packaging ensures zero plastic is used in the packaging of these surfboards.
FAQS

For more FAQs on purchasing a Salt Gypsy board online, please click here to access Global Surf Industries commonly asked questions.
Surfboard Returns

In the event that the product you purchased online is defective and requires any form of warranty, you need to contact GSI's Customer Care team straight away by phoning: AUS 1300 857 791 or email info-au@surfindustries.com. GSI's Customer Care team will then inform you how to return the product.

Please note that a change in mind does not constitute an acceptable reason for return in our mind.

You have 30 days from the receipt of the online shipment to return any defective item for credit or exchange, provided the merchandise is unused, in original condition, and is returned in the original shipping container.
Contact & Help
Generous width through the middle and a balanced outline keeps the board sitting really flat on the water. With loads of buoyancy, this functional shape instils a feeling of confidence for the paddler. The board accelerates quickly with just a few strokes and will maintain amazing glide and flow in flat water. Subtle lift through the tail allows the board to manoeuvre smoothly when riding waves.
Tech & Specs
Fin Included
Available in 2 Sizes

9'8" length | 31" width | 4 1/2" thick | 154L volume

10'6" length | 32" width | 4 3/4" thick | 182L volume
Board Contours
Construction

Molded Epoxy (MX) construction delivers structural integrity through the high pressure molding of multiple components. The components being; a medium density EPS core, 5 layers of Fiberglass (3 x deck, 2 x bottom) and a special epoxy resin that's mixed with carbon strands.

Encapsulating the whole board, and forming an outer skin that bonds through to the core, this combination of materials is fused together for over 4 hours under constant heat and pressure. The result is a very durable, well-weighted board, and the high-pressure molding process ensures that each board is identical to our specifications.
Specifications for this board
NOTE: Rider weight is based on board volume and intermediate rider skill level
Want to check it out instore?
Find your nearest board dealer