The generous outline (shape) and curves mean this board strikes the perfect balance between drawing long smooth lines in cruise mode and banking a nice turn on the open face.
Available in White & Vintage Blue
The Mid Tide
Size Options: 6'8 | 7'0 | 7'4 | 7'8
The versatility of the Mid Tide shouldn't be underestimated. This all day, every day mid-length cruiser is not intimidating in any way, and has a reliability to it that'll see her perform in just about any type of waves. The Mid Tide is designed to surf as single fin with two trailers but also performs well as a single fin only, all fins are included.
Wave Type
Ideal for 1-5ft
This mid-length surfboard will perform well in almost all conditions. The Mid Tide has been tested by Salt Gypsy's founder Danny in some solid swell over 6 hours of variable tides, as well as during more mellow sessions on fun, cruisy waist high waves.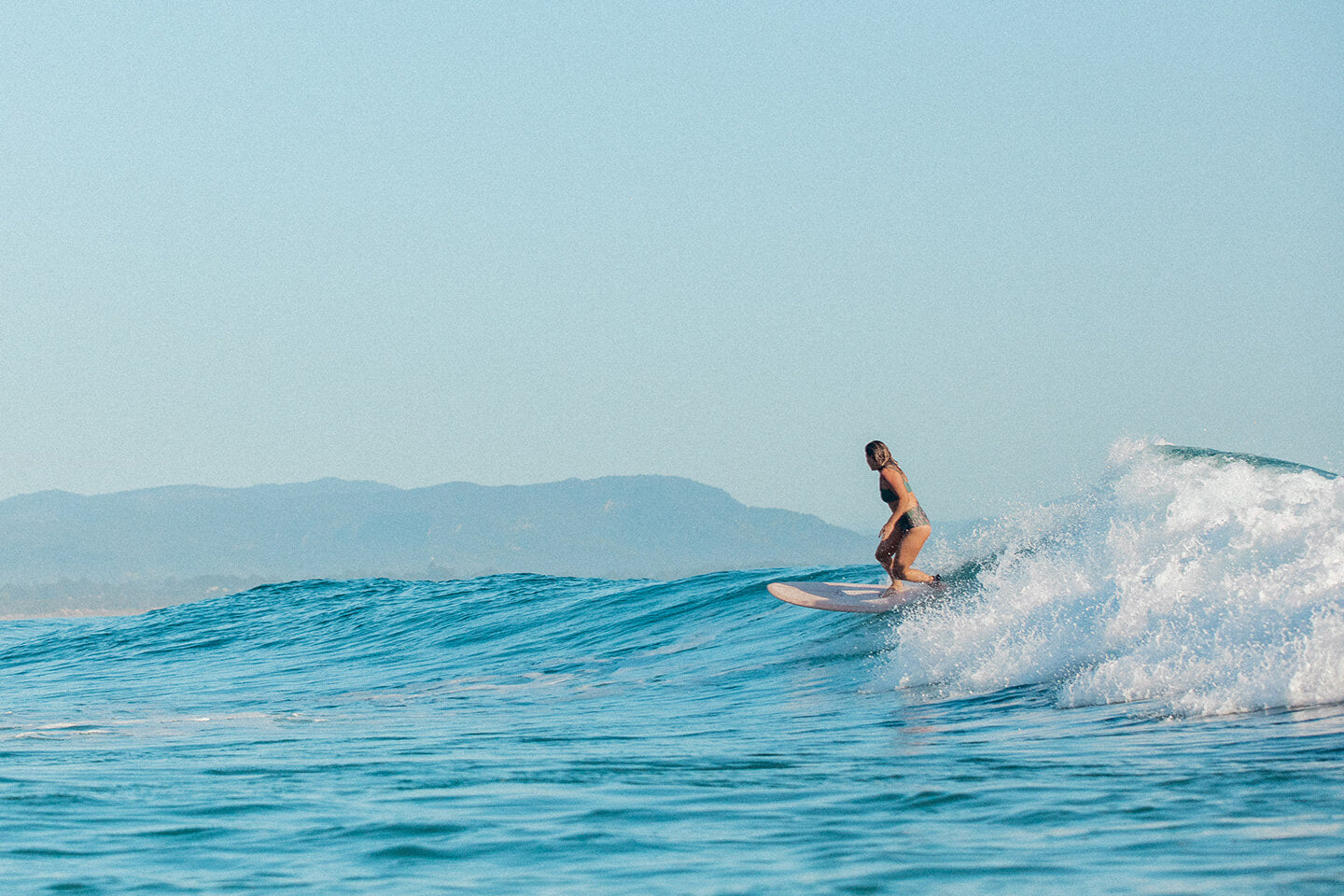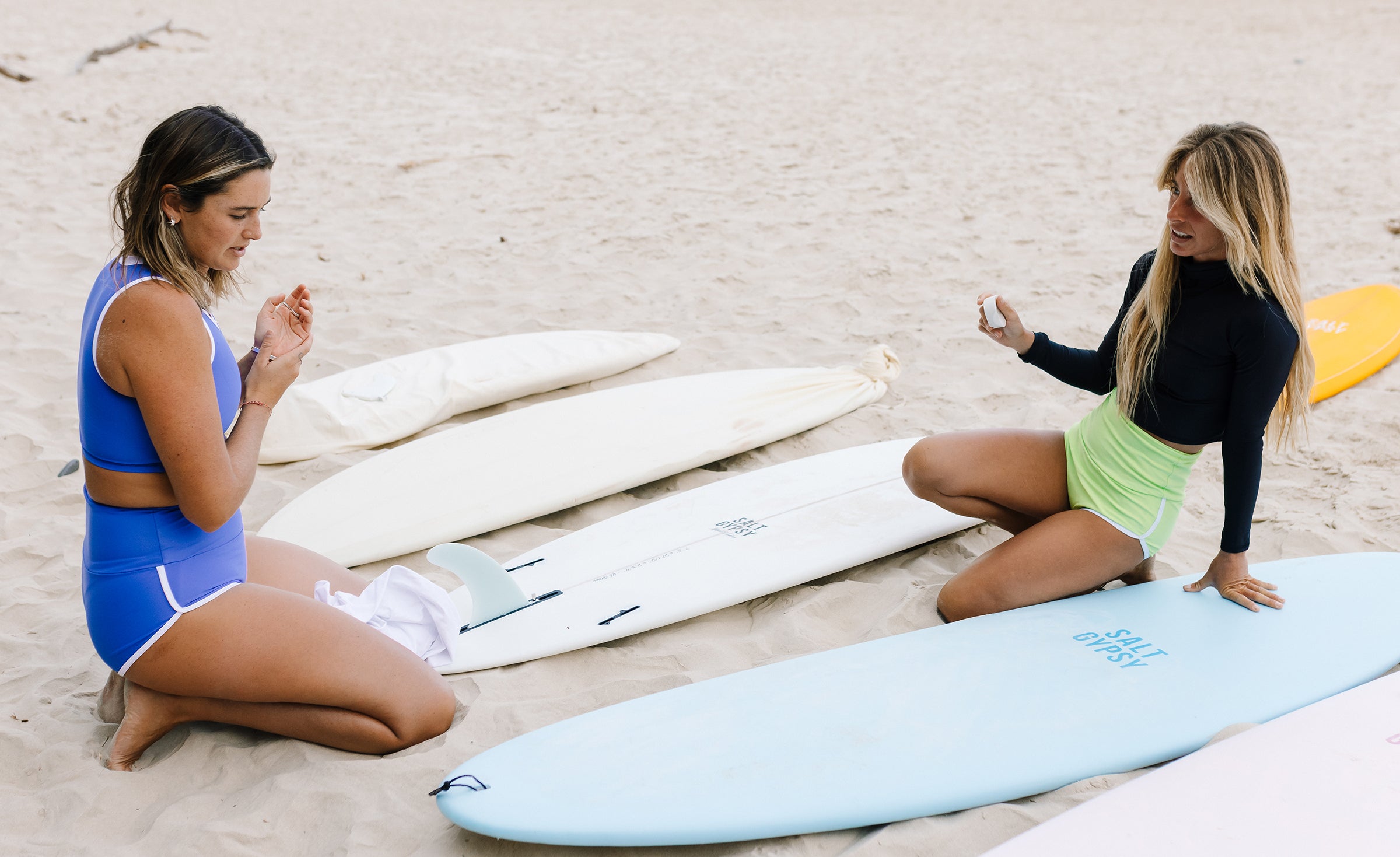 Surfer Skill Level
Beginner - Advanced
The Mid Tide is basically an all-round cruiser that will adapt to the rider's ability. Think easy paddling, lots of stability and enough turning response to satisfy the savvy Salt Gypsy wanting to really wet the rail.
Tech & Specs
Fins Included

7" Single & FCS2 Performer Quad Rears are included.
Available in 4 Sizes

6'4 length | 21" width | 2 1/2" thick | 37L volume 

6'8 length | 21 1/4" width | 2 5/8'' thick | 41L volume

7'0 length | 21 1/2" width | 2 3/4" thick | 46L volume

7'4 length | 21 3/4 width | 2 7/8" thick | 51L volume
Board Contours

Rolled Vee to Vee Double Concave
Construction

Polyester or PU construction uses traditional materials and laminating techniques to produce a strong, reliable surfboard with high-quality finishes. All polyester boards are CNC milled from the shapers files and laminated by hand using quality components such as Hexcel fiberglass, Silmar resin and Bennett foam.

For years traditional polyester boards have been at the forefront of performance surfing. These boards feature a progressive flex pattern controlled by a high-grade timber stringer and feel very reliable under your feet. Polyester construction will perform in all surf conditions and can be adapted to suit a wide variety of surfboard models.

You can find out more about GSI's surfboard construction on the surfboard construction page.
"

Love this board! It's such a fun ride. It was shipped fast and arrived in perfect condition. I've taken it out for a few times and its so fun to ride. It's nice and stable, and small enough to make some fun turns on the waves but easy to paddle out on and catch a wave. The color is so fun as well. I also love supporting this women-owned brand!

"
"

I freaking LOVE this board. It's a midlength that feels super stable and substantial but is light as a feather and rides like a shortboard. Typically I either log or surf a 5'10 potato chip. This is a perfect step up board OR a go-to when the waves are smaller or mushier but you want to ride a short board and have a lot of fun. (I'm riding the 7'0). I took it out in knee high waves for her maiden mission and had a blast. Highly recommend as an addition to your quiver.

"